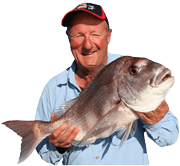 TV Fisherman
Geoff Thomas says
"I have been using my Seaboss 670HT for 15 years now and I love it."
Seaboss Boats have been developed and refined over the last 20 years to meet the needs of New Zealand boat owners, providing a strong and reliable hull for the demands of boating on our seas and lakes.
Ron and Julie Baskett have owned and operated the business since 1996 and started to build and provide Seaboss Boats to the market in 1997.
Our Seaboss range starts from a 550 Cuddy Cabin and moves up to a 700 Hard Top, all of which are customised to accommodate the customers' standard of finish. Our emphasis is to provide a quality custom built product that is value for money.
We also provide boats outside our standard range up to 8.2m and in different configurations including targa tops. We are happy to discuss your individual requirements.
For more information contact Ron on 0800 95 95 90.